Worrying about how to clean your pool for summer
The idea of getting a pool ready for a hot summer will always be an enjoyable activity. It's easy to fulfil your daydreams of hosting weekend parties, embracing a revitalized workout routine that requires lounging in the poolside while maintaining the perfect tan. You can look for Pool Service Boca Raton to make your pool ready. But one key aspect of pool ownership is often lost in those daydreams that are maintenance. You can contact Pool Cleaning Service Boca Raton and make your pool ready to dive into.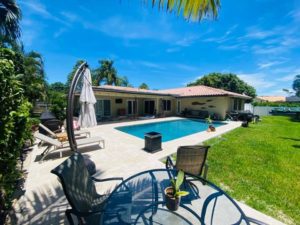 The list of things that you can do is below:-
Make use of filters as the Kidneys of Your Pool.
There can be layers of debris over your pool. That collection can be washed most of the time by turning off the filter, removing the filter cap on the pool deck, removing the filter basket, and removing any debris before fixing it all. It is best to clean your filter basket at least once a week.
Know about the chemicals.
An under-maintained pool looks disgusting. High-chlorinating on the flip side can cause swimming pool rash and eye irritation. Fortunately, to maintain sufficient chemical levels in your tub, you do not have to be a chemist. Your pH level is expressed by the colours on a test kit map, which informs you whether you have added too much chlorine or not enough. You can also take help from Pool Remodeling Boca Raton to get the perfect pool for enjoyment.
Learn to use your vacuum in the pool
As dirt and leaves left on the surface of the pool inevitably fall to the floor of the pool. The cleanliness of your pool depends on how careful you are about daily skimming. From mostly automatic robotic cleaners to handheld systems with telescopic sticks, pool vacuums come in a wide range of styles and prices.
Keep an eye on the water level.
The amount of physical water is equally important, as the water's chemical composition is. If there is too high a water level to remove the excess, rent a submersible pump from a home improvement shop.
Learn how to winterize your pool properly
It's also more important to make sure that you properly secure your pool for winter. After all, at the beginning of summer, no one wants to remove the pool cover only to find out that their bank has a leak or that their water is full of harmful bacteria.
For more information about how to maintain your pool, you can get in touch with Romance Pools.
Business Name: Romance Pools
Address: 7491 N. Federal Highway, Ste, C 5203, Boca Raton, FL 33487
Phone Number: 954-648-3098
Operation Hours : M-F 7am-6pm , Sat- 9am-5pm , Sun – Closed