Dive into Elegance with West Palm Beach's Finest Pool Contractors
At Romance Pools, we, as Pool Builders West Palm Beach, bring your aquatic dreams to life. Our bespoke designs and impeccable craftsmanship make us the beacon of luxury in custom pool creation. Unleash the true potential of your outdoor space with revolutionary designs that transform a pool into a sophisticated centerpiece of your residence, reflecting both style and sophistication.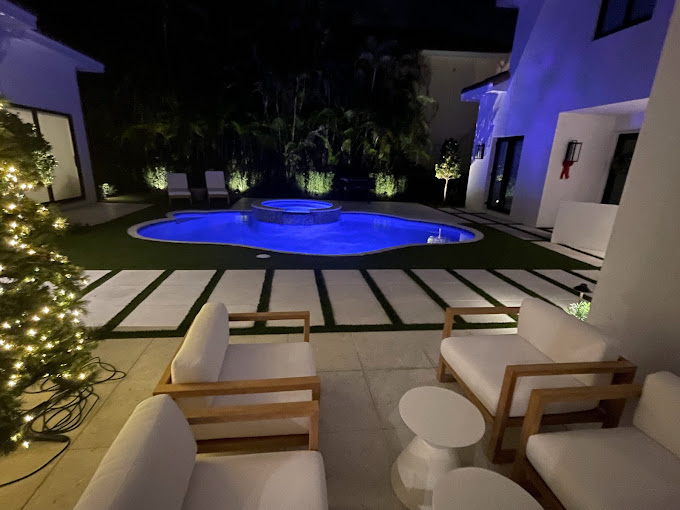 Customized Solutions Tailored to Your Vision
Built to Impress, Crafted to Last
With a meticulous eye for detail, our Romance Pools experts harness innovative techniques and premium materials to deliver swimming pools that not only dazzle but endure through West Palm Beach seasons.
A Spectrum of Possibilities
Whether it's a serene oasis or a vibrant entertainment hub, our flexible design options cater to every whim—waterfalls, infinity edges, or custom aquatic features.
Construction with a Conscience
Safety doesn't pause at our pools' edge. As Swimming Pool Contractors in West Palm Beach, we integrate the latest safety standards into our building process, ensuring a fun and secure swimming environment for our clientele.
The Promise of Durability
Our confidence in our work is solidified with a comprehensive warranty. Rest assured, your pool construction is in the most trusted hands of West Palm Beach.
Why Choose Us for West Palm Beach Pool Construction?
Tailored Construction: Creating your dream pool is an art form at Romance Pools, beginning with a Personalized Consultation that is much more than a mere meeting. It is the laying of a foundation for a partnership that brings your vision to life in the heart of West Palm Beach. Here, every nuance of your lifestyle and the character of your property are taken into account, ensuring that the pool design not only complements your home's aesthetics but also your aspirations for luxury and leisure. We explore the depths of your desires, advising on design, materials, and features that could include everything from serene, cascading waterfalls to vibrant, color-changing LED lights for that touch of evening glamour.
The Precision-Driven Installation: Our West Palm Beach clients are not just spectators but active participants in this transformative process. We provide updates at every pivotal phase of the construction, from the initial groundbreaking and detailed excavation through to the intricate plumbing work and up until the crafting of the surrounding deck. This deck isn't just a perimeter around your pool; it's the stage for your family's most memorable moments, designed with both beauty and functionality in mind.
Swim With Satisfaction:  Satisfaction is more than just a final product; it's the overall experience. From our initial handshake to the first splash, we ensure that every interaction is marked by prompt customer service, expert guidance, and a responsive ear to all your needs and feedback. Your satisfaction reflects the pride we take in our craftsmanship and the joy we find in seeing your dream realized.
Seamless Integration, Spectacular Results: The art of pool renovations in West Palm Beach lies in harmoniously blending the new with the existing. Our design philosophy embraces this challenge, transforming your outdoor space into a symphony of structure and water. By honoring the integrity of your property's unique character, we innovate without overshadowing, creating pools that are as inviting as they are impressive. Our commitment to excellence is evident in the seamless way new installations complement the established ambiance of your abode.
Budget-Friendly Without Compromise: Competitive pricing meets uncompromised quality. Explore options that align with your financial comfort without skimping on quality. Get ready for affordable luxury with our swimming pool builders West Palm Beach.
A Commitment Carved in Stone: Choosing us is an investment in a lifelong relationship with artisans who value the sanctity of your family's joy. Beyond the initial installation, our post-care services are meticulously crafted to ensure that your pool remains a continual source of pleasure for years to come. We provide bespoke maintenance plans, offer pool remodeling services in West Palm, deliver prompt support for any concerns, and provide guidance on best practices for pool care. This comprehensive approach solidifies our pledge to stand by every swimming pool we bring into existence. Your trust in us is met with unwavering dedication, ensuring that every moment spent in your pool becomes a testament to our enduring commitment.
Ready to Dive into the Ultimate Pool Experience?

Step into the world of bespoke aquatic elegance with Romance Pools. Here, your vision for a tranquil or vibrant waterscape becomes our mission. Our experts are primed to guide you through every phase of the creation process, ensuring your journey is as enjoyable as the destination. In West Palm Beach, your perfect pool is within reach. Let's turn your backyard into a stunning oasis. Contact us now and start crafting those unforgettable memories—your personal paradise is waiting to be discovered. Join us, and let's make waves together!
Transform Your

Space Today with Our Expert Pool Builders
Get in touch with us!