Transform Your Oasis with West Palm Beach Pool Renovations
Step into your backyard and discover a serene oasis, where a meticulously remodeled pool awaits your every leisure and entertainment need. Our unparalleled swimming pool remodeling West Palm Beach brings this vision to life. Recognizing that your swimming area is more than just water, it's the heart of your backyard, we specialize in customized pool renovations. Tailored to create your dream outdoor space, our services redefine the essence of pool perfection in West Palm Beach.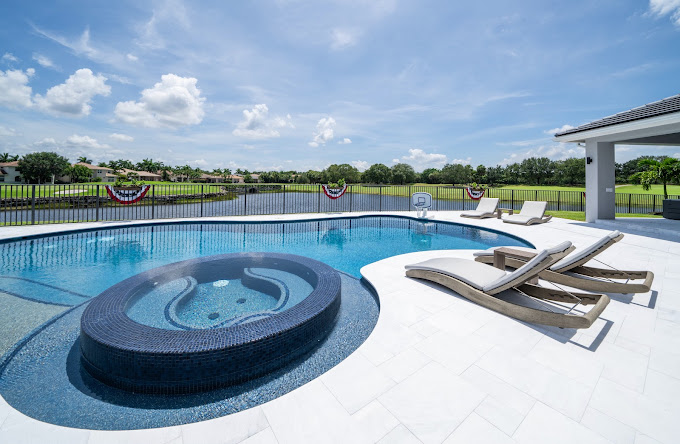 Your Pool Remodeling Vision: Our Command
Are you pondering the pool remodeling cost in West Palm Beach or searching for the best pool remodeling West Palm Beach near me? We are your premier partner. We combine competitive pricing with exquisite workmanship to deliver a product that exceeds your expectations but not your budget.
Designing Dreams, Building Legacies Dive into the design phase with confidence as our team helps you select the right textures, hues, and features that will make your pool not just renovated but rejuvenated.
End-to-End Expertise From the initial consultation to the final reveal, our team in West Palm Beach is dedicated to crafting a space that's not just built but engineered for joy.
Excellence Unveiled: Our Pool Remodeling Services in West Palm Beach
Bespoke Design: Crafting Your Personal Aquatic Vision
Your pool is a reflection of your style and your home's character. That's why our approach to pool remodeling in West Palm Beach is not one-size-fits-all. We offer bespoke design services tailored to your unique desires. Whether you are inspired by the sleek lines of a modern pool or the natural curves of a lagoon-style retreat, we translate your vision into detailed plans. With Romance Pools, every edge, every tile, every feature is thoughtfully designed to align with the dreams you have for your space.
Quality Materials: The Foundation of Enduring Elegance
Longevity in pool design is not just about the visual appeal—it's about resilience against the tests of time and nature. We source only the best materials for your swimming pool remodeling project. From durable, non-slip surfaces to elegant, waterline tiles resistant to fading and wear, we ensure each material selected combines aesthetics with functionality. High-grade plasters, energy-efficient pumps, and advanced filtration systems all play a part in the extended beauty and operation of your West Palm Beach pool.
Skilled Craftsmanship: Where Expertise Meets Precision
Transforming your existing pool into a work of art requires more than just vision—it demands skilled craftsmanship. Our team in West Palm Beach, brings a wealth of experience and precise attention to detail to every project. We pride ourselves on a legacy of transforming backyards into luxurious escapes. This is where our expert masons, electricians, and designers converge to turn blueprints into breathtaking realities.
Regular Maintenance: Sustaining Your Sanctuary
Once your pool renovation is complete by West Palm pool builders, maintaining its allure and function is key to enduring enjoyment. Our commitment to your satisfaction extends beyond the remodel. Our regular maintenance services are designed to keep your pool in pristine condition throughout the year. From routine cleaning to seasonal inspections, our maintenance programs ensure every swim is as perfect as the first. We handle the upkeep, so the only thing you need to worry about is how much time you can spend basking in the beauty of your private oasis.
Customer-Centric Approach: The Bedrock of Your Trust
Your satisfaction stands at the core of our operations, driving us to deliver a seamless and enjoyable remodeling journey. From the initial ideation to the final unveiling, your journey with us is paved with clarity, communication, and care. We dedicate ourselves to not only fulfilling your project's requirements but to providing an experience that leaves you delighted with every interaction. The foundation of our customer-centric approach is a testament to the ethos that every team member upholds—your satisfaction is the measure of our success.
By entrusting us with your pool remodeling needs, you secure more than just a service—you gain a partner dedicated to crafting a slice of paradise, personalized just for you, in the heart of West Palm Beach.
Ready to Dive into Excellence?
At Romance Pools, we're not just building pools; we're crafting experiences, fostering memories, and elevating lifestyles. Contact us today to embark on the first step toward your backyard transformation in West Palm Beach.
Revitalize Your

Pool Paradise!
Contact Us for Premier Pool Remodeling in West Palm Beach Today.