Summer is almost the most exciting activity that you can do in summer. For that, all you need to do is to put your swimsuit on and enjoy your pool's cool water. However, you have to ensure that your swimming pool is ready for the season before diving in. To make sure your swimming pool plan for the season, you have to take some measures, and for that, you can take help from Pool Service Boca Raton.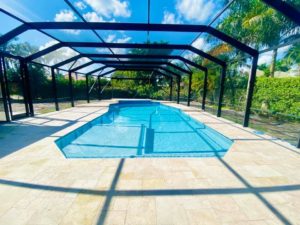 As swimming is always best experienced during summer, below are what you should consider before preparing your pool for summer.
Clean the debris
Over the winter, most of you may or may not have kept your pool covered. Even then, there might be a lot of debris. There is always a risk that it will make its way into the pool with a reasonable amount of gravel, twigs & debris. The first thing about your pool planning is to clear all the debris out. If you've got a cover over your pool, you're probably collecting water on top of the cover. To clean your pool, you can take help from Pool Cleaning Service Boca Raton.
Run the Filter and Pump in the pool
Don't be shocked if it happens to be a different shade of green or gloomy water if you haven't taken care of your pool in a while. By keeping the filter machine running, the muddy water is quickly remedied. It would help if you did continue running the machine between 10 and 12 hours a day until the pool is clear.
Arrange for all the pool pieces of equipment
Before diving into the pool, you should check if you are ready with all the appropriate equipment. To clean the debris from the surface of your pool water, you need a skimmer. You can need a vacuum pump to clean the water underneath. You need to clean the ladders, stairs, etc., brushes, and you can contact Pool Remodeling Boca Raton for this work. That's why planning a checklist of all the required things you're likely to do is smart, and it should include the following things:
A Pool Vacuum
A Water Test Kit
Pool Opening Chemicals
A Telescopic Pole
Pool Skimmer
Pool Brush
Clean a swimming pool: 
How to take care of the equipment for your pool after winter? It's not fun, safe, or good to swim in a dirty pool, so you have to clean it whether you like it or not. Cleaning your pool guarantees that no one can get sick or annoyed when you are in the water. To get rid of any debris, use pool cleaning equipment, such as a pool broom, pool scoop, and pool cleaner. For any debris that might have caught, you will need to search the skimmer.
Check the level of PH, Alkalinity, & Chlorine in water:
Before using the pool, checking the pool water is also essential. But checking is a must when it comes to a pool that hasn't been used for a while. Generally, in pool water, three chemical percentages like ph, alkalinity, and chlorine are tested.
You can contact Romance Pools for more information.
Business Name: Romance Pools
Address: 7491 N. Federal Highway, Ste, C 5203, Boca Raton, FL 33487
Phone Number: 954-648-3098
Operation Hours : M-F 7am-6pm , Sat- 9am-5pm , Sun – Closed