Feeling unsatisfied with the overall appearance of your pool? Doesn't your pool match current trends? Do you want to upgrade the ambiance of your home, remodeling your pool? No matter what the reason is, there are several pool remodeling options out there that will leave you amazed. Some homeowners prefer hiring pool remodeling Boca Raton contractors to accomplish this pool remodeling project, or others will go far doing this task by themselves.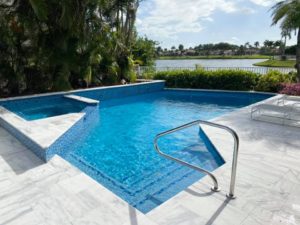 If you want to do it by yourself, it might seem like a big undertaking. There is a possibility that you're not sure what things you must need to consider while remodeling your pool. We've got you covered with a comprehensive guide to give you a brief idea about pool remodeling. 
But before we discuss the guide, let's discuss the signs that show it's time for pool remodeling. 
Signs of Pool Remodeling
If you're not sure when you're ready for pool remodeling, you must go through the below-listed points. Take a look at the points describing the biggest sigs screaming aloud it's time to remodel-
Cracked and damaged walls

Outdated designs 

Pool surface deterioration

Repetitive repairs

Poor energy efficiency

Lack of safety features

Fading colors and patterns and more.
Upgrading your pool might seem like a back-breaking task, but that's not true. All you need the right pool service Boca Raton can get the job done efficiently. As a homeowner, the thought may strike your mind "why not get it done by yourself?" Yes, you can. Just follow this easy guide-
Whether you're remodeling or constructing a pool for the first time, it is essential to set a budget. When you set a budget, you can plan further processes accordingly in a set price range. But how would you create the right budget for the process? It will be good to explore and compare the prices of pool remodeling projects depending on the size, age, the shape of your pool. You can also search for "pool remodeling near me" online and hire a professional to give you a clear idea about the pricing. 
After setting up your budget, the next step is to have a few words with pool remodeling or pool cleaning service Boca Raton experts. Some remodeling projects won't be possible for several reasons, such as existing obstacles like poles, etc. Such a situation makes you fall into the dilemma of what to do or not. We would recommend you to talk to our experts, who know how to deal with such a situation and help you get out of it. They will assist you in pool remodeling projects prioritizing the current pool layout, and discovering the best ways of doing that. 
After the contractor provides a better way to upgrade your pool, the next step is to drain the pool. Place a submersible pump at the bottom. Make sure to not place it in front of a drain or on your street, not in the grass. The pool will get empty within six to twelve hours.
The pool remodeling process includes replacing the current tiles with the new ones. It's an important step to do and is listed on top place on the homeowner's to-do list. For this, you need to chip out the pool's surface to make space for the new tiling. 
This portion of the plan requires a couple of days, especially when you want the tile to look good in the pool. The number of days also depends on the pool's size and when you aren't taking expert assistance. Apply the new tile with grout to keep it in the right place. 
Once the new tiles and grout get dry, the final step is to refill the pool. Add the water back and use the tile line as your guide to getting it full. Pool filling time depends on the size of your pool. If the pool is of small size, it will take half-day, and if you have a bigger pool, it might take up to full or two days. 
Final Words
Follow the above-listed points step-by-step to get the pool remodeling done accurately, efficiently, and effectively.